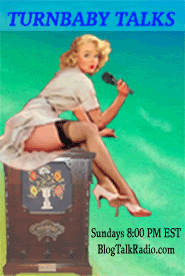 Bless her little heart (how southern is that expression?!)! My most excellent friend and fellow HoochieMama
Turnbaby
(she's delicious, she truly is) has
fallen on her head
graciously invited me to be her Special Guest on her Blogtalk Radio show
"Turnbaby Talks"
tomorrow evening (Sunday the 6th of July at 8PM EST) to "expound profound" on the topic of "Forgiveness". We'd love for you to join us in
a vat of jello
profound discussion, the call in number is 646-716-8102. Don't be shy, we don't bite (much).
Hopefully we'll take the "peaceful easiness" of friendship and treat a very deep and serious topic in a playful and open manner. She's a lawyer, and I'm a "professional arguer/smartass"... how could this possibly go wrong? *wink*
So on this July 4th weekend, we'll primp and do our best to put our best foot forward and venture into a deep topic with your help.
At least we'll have lovely pedicured toes and sweet-ass shoes on should we stick the "proverbial foot in the proverbial mouth"!


Join us, call in, listen in, come to the chat room... Oh, and bring a cocktail and an open mind!
"Each friend represents a world in us, a world possibly not born until they arrive, and it is only by this meeting that a new world is born."
- Anais Nin